Perhaps one of the most basic functions of your HRIS portal is hiring employees in the system. Keeping updated employee records is critical for accurate reporting and making sure all employees appear in your payroll grid and reports. Fortunately, hiring employees is a breeze in the Employee Management module.
How to Hire Employees
Instructions
To add (hire) an employee in the system, start by launching the Employee Management module.
From here, select + New Employee on the far right.
This will open a New Employee dialogue box. You can select Manual to add the employee directly to the system.
Top Tip: If you are using our Onboarding service, you can use the Onboarding Wizard option to add the employee through the onboarding module. This allows you to automatically send them your company policies and forms, assign onboarding workflows, and have your new hire complete their paperwork electronically.
After selecting Manual, you will be asked to confirm this selection. Click Yes.
From here, enter your new hire's information to create their employee record. The fields on this screen are configurable based on your organization's needs, so if you need to add or remove any fields, please contact our support team!
Top Tip: The Send Registration Email option will automatically send your employee a welcome email with a link to activate their Employee Self-Service portal if you are using ESS. Both the employee and supervisor copies of this email are the same with the addition of the text "Administrative Copy" added to the subject of the employer copy. For example: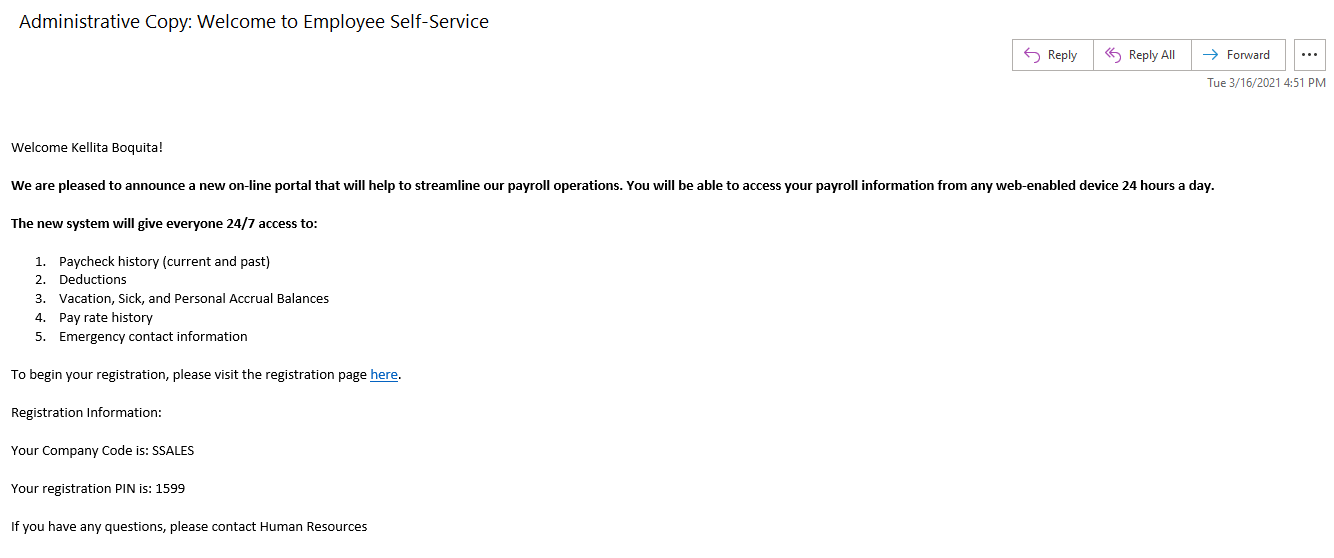 To customize your Welcome Email, launch your HRIS Administration module > Company Details > Email Templates > Registration Letter - Email > Edit.
Once you have entered all of your employee's information, click Create at the bottom of the page.
Top Tip: If your screen doesn't move on to the next page when you click Create, scroll up to make sure all required fields are completed!
At this point, your employee record is officially created! On the next screen, you will have the option to add Accruals, Direct Deposit, and Deductions. You can always update this information at a later date as well.
Now, you can return to your Employee List to add or edit other employees or visit your new hire's profile by clicking Go to Employee Profile to view your changes and make any other edits.
Congratulations, you've just successfully added a new employee!