Go to Employee Management
Double click on any employee name to access their profile.
Default Hours: Use this field to display standardized recurring hours that need to show on payroll reports and pay stubs (i.e. salaried bi-weekly employee 80.00 hours)
Auto Pay
Pay Frequency: Rate in which the employee is paid. This is the pay period.
Current Annualized Salary: Amount of pay the employee receives each year at the rate configured. Only displays if the Auto Pay is set to Hours or Salary



Double click on any employee name to access their profile.
Go to Paycheck > Pay Rates & Salaries
Press the Set New Pay rate button
Fill an all fields highlighted in green. All fields highlighted in red are used to provide overrides for employee cost center information when the rate is used during payroll. Leave them set to Choose if you would like reports to display the employee's default employment information
Use the Calculator Tool to calculate "What if" scenarios for employee rate changes. Calculations will not be saved unless the "Populated Rate fields Above" button is pressed and the "Create" button is used to save entries.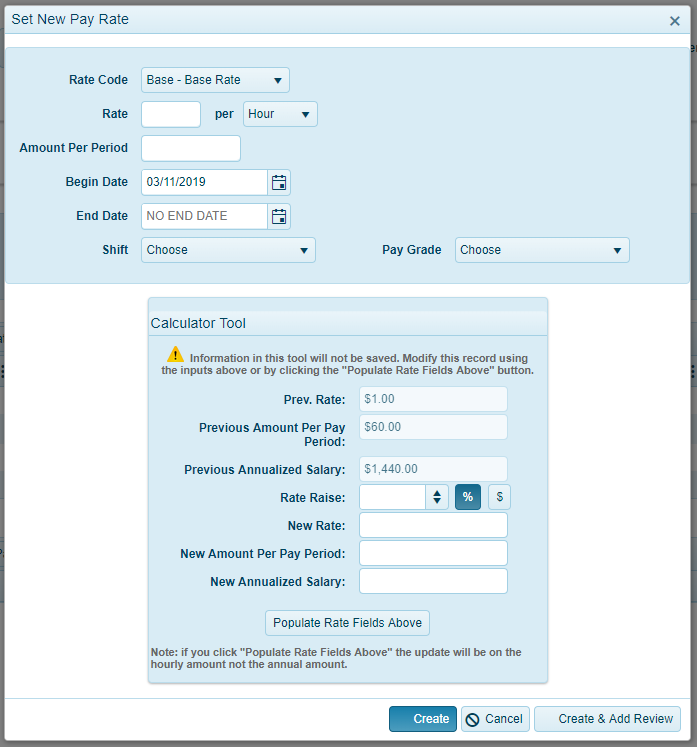 Linking a New Rate to a Review
*Remember - you can customize review ratings for your organization in the HRIS Administration Module
When setting a new payrate press the create and review button

The review screen will allow you to enter review details for the rate. Press Create to save.