Two Factor Authentication (2FA) protects you by adding a second layer of defense to your HRIS portal. While passwords alone grant access by asking for "something you know," 2FA takes this a step further by also requiring "something you have" to grant access.
This means that even if a bad actor has acquired your password, they will not be able to access your account unless they physically have your phone in their hand.
How It Works
When 2FA is enabled, you will need to authorize your device through two-factor authentication when signing into a new computer, tablet, or cell phone. To authorize your new device a confirmation code will be sent to you.
You will be able to choose if you would like to receive the confirmation code via one of your configured contact methods. Once you have received your confirmation code simply, enter it into the prompt to access your account.
Top Tip: You can ensure that your device is remembered in the future by making sure that the "Recognize this device in the future" checkbox is marked."
2FA Options
If you only registered with either an email or phone, the verification code can only be sent to the email or phone on file.
If you registered with both an email and phone number, you may choose which one to send the verification code to. (We strongly recommend this!)

Updating 2FA Methods
If you wish to add an email or phone number (or change either of these), you can do so by selecting your user icon at the top right of the screen. Then select Account Settings.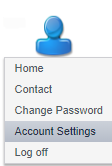 From this screen, you can change or add an additional email address or phone number as well as change your default notification method.