Updating Personal Information
Updating and Viewing Personal Information
To view or update your personal information on file, click on the "Employee Self-Service" module. You will automatically be directed to your personal information page. Use the left side navigation to view contact information, dependents, emergency contacts and employment information (hire date, title, department, etc.).
Redesigned View
Select "My Profile" from the side menu: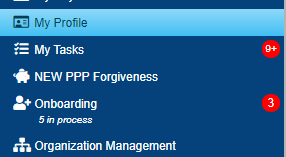 Select the "Edit" button and begin editing your information.