System security in your HRIS Portal is based on the concept of customizable roles. A user can be assigned to multiple roles, with each role having customizable account settings, field settings, and module settings.
When custom access is needed, you can always come in and customize the access within one of your existing roles.
Top Tip: If you prefer to leave your existing roles as-is, you also always have the option to create a new custom role!
Step-By-Step Instructions
To begin, launch the HRIS Administration module from the home screen of your HRIS portal.
Then, select Manage Roles from the side menu under Payroll And Setup.
From the table on the left, click on the role you would like to edit to view or change its module access.
Top Tip: For any custom roles you have created (not including the default system roles), you can click Edit or Remove to edit the role's name or delete the role if it is no longer needed or was created in error.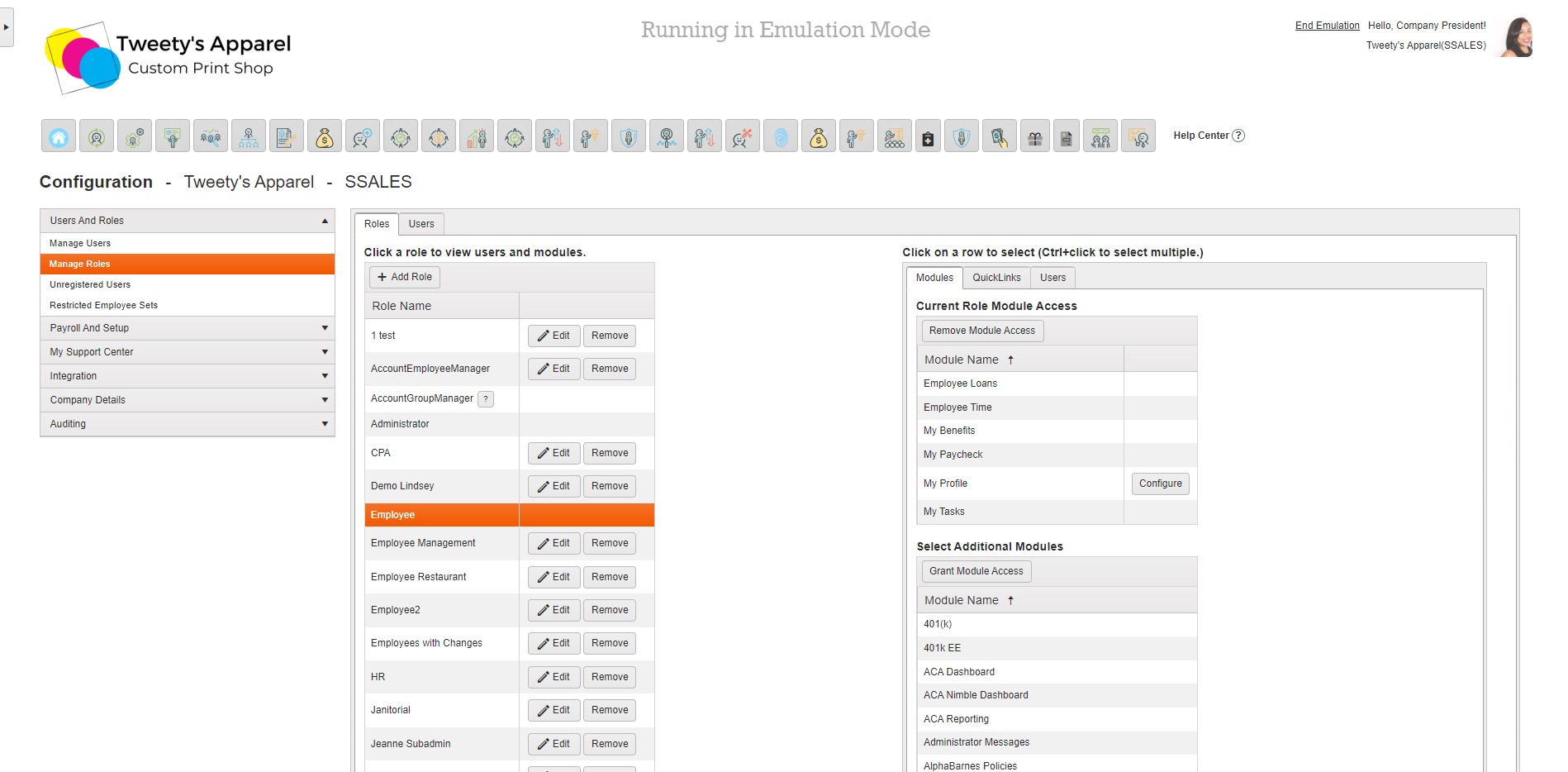 After you have selected a role from the left-side table, the right-side table will populate with the role's Current Role Module Access and all remaining modules to Select Additional Modules to be included in the role's access.
To remove access, click on a module from the top Current Role Module Access section and click Remove Module Access.
To add access, click on a module from the bottom Select Additional Modules section and click Grant Module Access.
Module Configuration
Some modules, such as My Profile, will have further configuration capabilities. In these instances, you can make sections or fields in the system visible/invisible, editable/read-only, or editable pending manager approval by selecting Configure.
This will open a dialogue box to configure the module display access. From here, you can edit the section as a whole by clicking Edit, or select the drop-down arrows to view the section details and make your edits at a sub-section or field-level.
Checking the Visible box will make this visible in the role's profile. Checking the Read-Only box will make this section read-only so the user is unable to edit data within the section. If you make any changes, click Update to save them.
If you prefer to edit access by sub-section (i.e. you want employees to be able to update Emergency Contacts but not Personal Information within the Personal Details section, you can select the drop-down to edit these subsections in the same way as the main sections above.
Finally, for even more granular access editing, you can again select the drop-down menu by a subsection to edit field-by-field (i.e. if you would like employees to be able to update their Nickname and Cell Phone Number but not their SSN).
After making any changes at the field level, select Save Changes.
Top Tip: In addition to making sections, subsections, or fields visible or read-only, you can also require approval for edits by users in the role using Approval Templates.
Common Scenarios
To get you started customizing your roles, here are some of the most common requests we see for role access, and how to create them.
How do you set up a Manager to only see select fields or menus?
This can be done in the HRIS Administration module under Users And Roles > Manage Roles > Module Access and Configuration.
How do you set up a Manager to only see select employees?
Restricted Employee Sets in the HRIS Administration module > Users And Roles will allow you to single out employees a user is able to view outside of Roles.
Can I allow a clerk to make entries in the system pending administrative approval?
Yes! You can allow them access using Approval Types by selecting them by name.
How can I update which fields an employee can update and/or change?
You can configure this through the Employee Role by selecting which views are Visible and which are Read-Only.
Can I req